Hi and welcome to our curated list of the top 5 survey sites to make money and earn rewards!
Survey reward programs have been getting more and more popular recently, there are so many survey sites to choose from it can be a truly daunting task trying to decide which ones to go with! We've designed this list to help you find a rewards program that suits you. Not all of these survey sites offer the same rewards, some will only allow you to redeem points for cash, whilst others specialize in gift cards and even product samples. Toluna, for example, gives out free samples to their users in exchange for using their service. All of these survey sites are mobile-friendly and are able to be accessed on your PC, laptop, tablet or any of your favorite devices.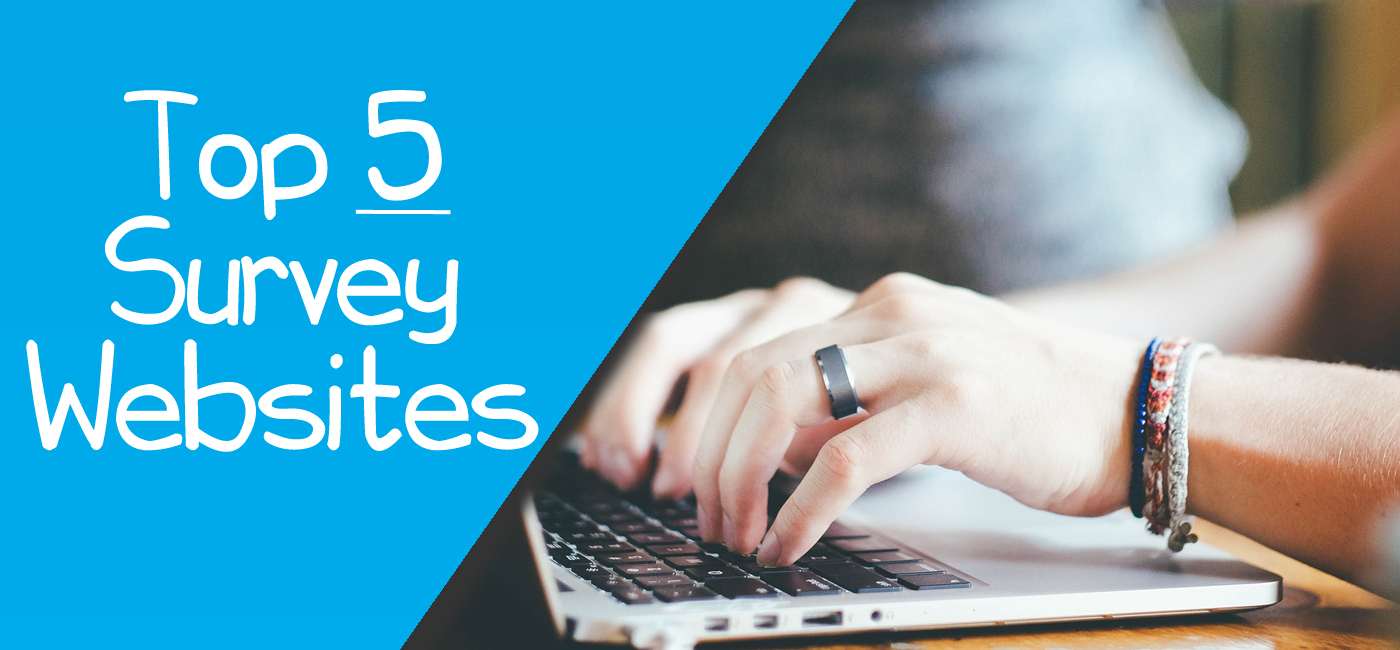 First we'll do a quick rundown of the top survey sites along with our personal ranking. Just scroll down the page to find more info for any ones that interest you!
1. Survey Junkie – focuses on cash rewards via PayPal as well as Amazon gift cards, usually has the quickest surveys.
2. MySurvey – has one of the biggest range of gift cards of all the survey sites, very good reputation.
3. Ipsos I-Say – low point threshhold to cash out, redeem for products and gift cards. Physical rewards available too.
4. Harris Poll – another well known one, allows you to review and influence products from various brands.
5. Toluna – best for earning free samples, offers new free sample programs every month to users.
Quickly becoming one of the most popular survey websites with over 5 million users, survey junkie pays users in return for completing surveys. Most users choose to get paid in PayPal gift cards however they also offer Amazon gift cards. I personally find that Survey Junkie has some of the easiest surveys to participate in, as well as regularly getting new ones in that match with my profile. The time it takes to complete a survey depends on your typing speed of course, but I found that most were able to be completed in under 10 minutes. Definitely a plus when it comes to doing surveys online – no one likes the ones that take an hour to fill out!
I'd recommend Survey Junkie to anyone who's just starting out, although it's also a solid choice for experienced survey partakers and those who are only interested in cash rewards!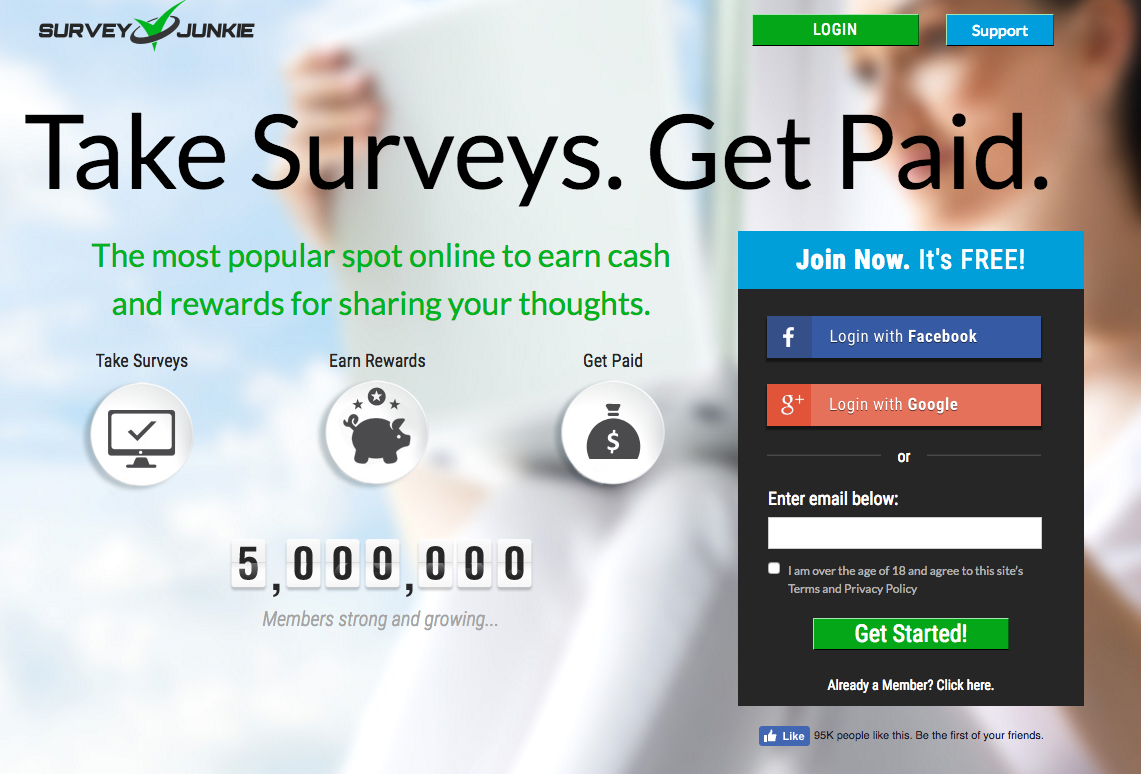 MySurvey has a huge amount of gift cards to choose from when it comes to redeeming points. They don't just offer cash rewards though, you can also redeem for full-size products and vouchers. The surveys on MySurvey are often more tailored to you and personalised, it's a great choice for people who actually enjoy answering questions about themselves! Most surveys can be completed within 15-30 minutes depending on which ones you get matched with. After you earn a certain amount of points, you can redeem them for either cash or their other rewards (there's usually good choice here, and rewards can be mixed if you have enough points.)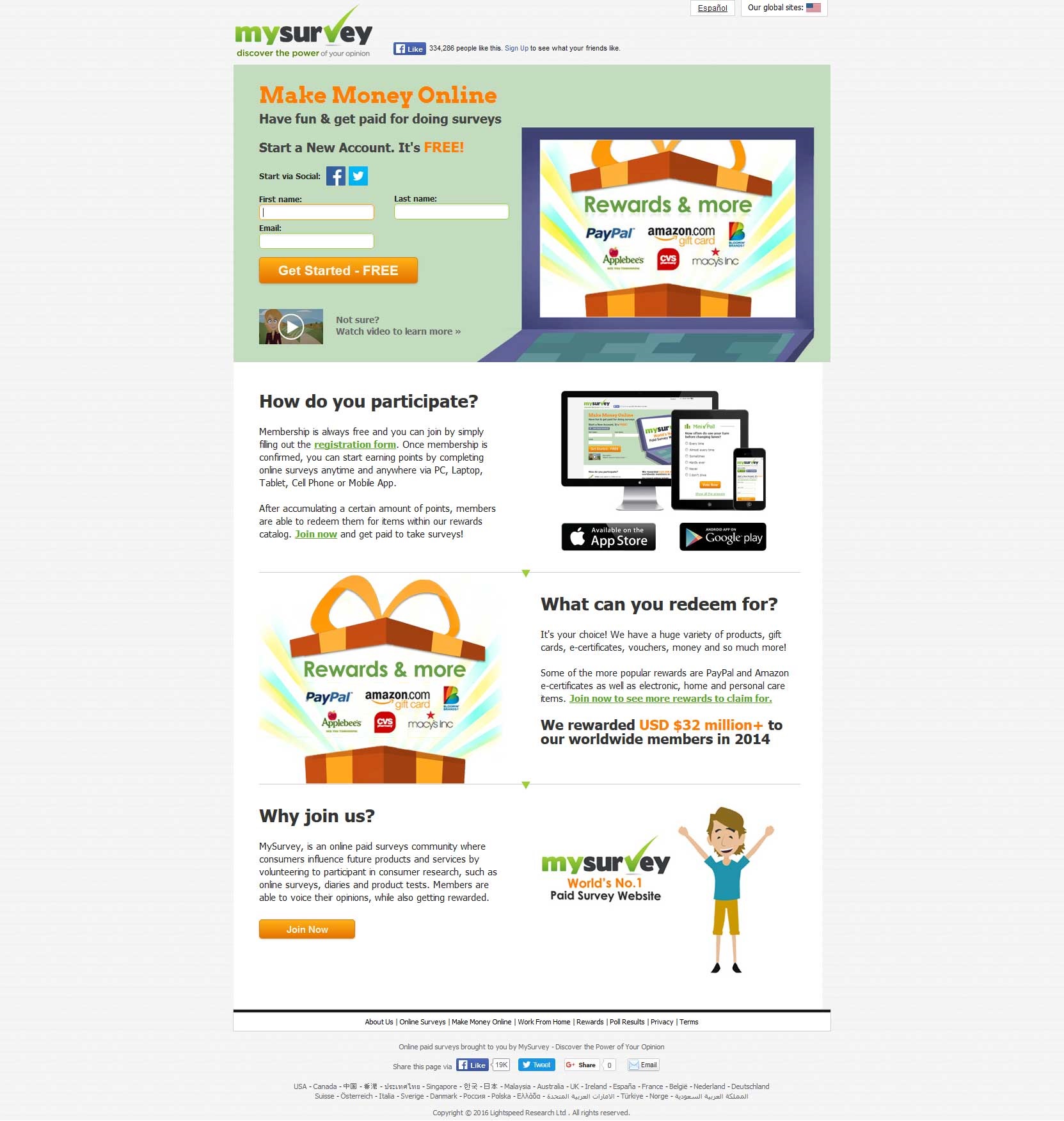 Ipsos likes to be known as the best survey site for earning rewards. As in, actual physical rewards rather than just cash! Although gift cards and vouchers are also available for those who prefer. I personally really like Ipsos for their rewards, I'm a huge fan of free samples in general and getting stuff in the post is so fun! From my experience, they have a ton of products in their reward section with all types of brands. They also offer a nice heartful feature where you can use your additional points to do a charity donation, although it is purely optional. Ipsos will also send you an email whenever you qualify for a new survey which can be a great way to keep you motivated. After being a member with Ipsos since their rebranding, I would definitely vouch for them and recommend them to anyone looking for a wide choice when it comes to redeeming their points.
Priding themselves on being one of the most well known survey sites, HarrisPoll allows you to influence brands, corporations and non-profit organizations through your surveys. Working with some of the biggest brands of all survey sites, HarrisPoll lets you earn points in exchange for completing surveys from these brands. You can redeem your points for Amazon, iTunes or Starbucks gift cards. HarisPoll also lets users enter into various sweepstakes if they earn a set number of points! Average survey time is 15 minutes but some can be very long depending on what you are matched with, it's important to fill out your profile when you sign up so you're matched with more surveys. You should then be able to pick out the short ones first before moving onto the longer ones!
Partnered with several giant brands, Toluna is a solid choice for those looking for more sample based rewards rather than cash. There's also a friendly community within Toluna that love to talk about their experiences and what they got in the mail. Toluna does offer cash rewards too, but from my experience most users actually prefer to go with the item rewards. Every month Toluna will pick a new product to put on their sample program, this lets a set number of members sign up to receive and review it. A few of the items I've seen on their sample program have been L'Oreal haircare and skincare products, Maybelline liquid lipsticks, eyeliners, kitchen products, etc. Toluna is a perfect choice for those of you who are looking for free makeup and other products on the side, as you aren't restricted to redeeming just one reward!