Are you wondering if it's possible to get free makeup samples in the mail? Do companies still give out free samples these days?! The answer is YES! If you're a makeup artist, beauty blogger or perhaps just want to score some free makeup, we've got you covered!
It's true that many brands (especially beauty brands) have in recent years stopped using free samples as much to promote their product. There are still many who do – it can just be a task to find them before they are all gone! Below I will list some of my favourite ways to score free makeup samples in the mail.
PinchMe

Starting with PinchMe as it is my personal favourite for receiving free beauty samples, sometimes even full-size products are offered in the sample boxes. PinchMe let's you sign up for free and every month you can receive a box of samples. These boxes usually get sent out around the same time each month, and if selected you will have to make sure you put in your sample request before they are all gone, these samples usually run out really fast!
When you do receive a box you will often get multiple samples, it's a great way to discover new beauty brands too. In return for receiving these samples, PinchMe will usually ask you for a short opinion or hashtag with the product.
Test Products For Beauty Brands
Another great way to get free makeup samples is by signing up with beauty brands and testing their products for them. These products are all approved – it's not that sort of testing! They will simply ask for your opinion on the product and in some cases you may be asked to leave a review somewhere. The good thing with testing products for brands is you will often receive a full-size product! Here are some of the brands and companies that currently allow you to sign up and try their beauty products out:

Get Free Samples With Makeup Purchases
I know quite a lot of people who order from Sephora online and have no idea that you can get 2 free samples with your orders! Sephora has consistently offered 2 free samples on every order for quite a while now, and if you're not getting them when you do your orders you're missing out! If you check the Sephora samples page here you can see that they offer quite a few different samples too. It does mention they are getting a high volume of sample orders at the moment so some may be substituted with a different sample, I've always received the ones I've ordered luckily!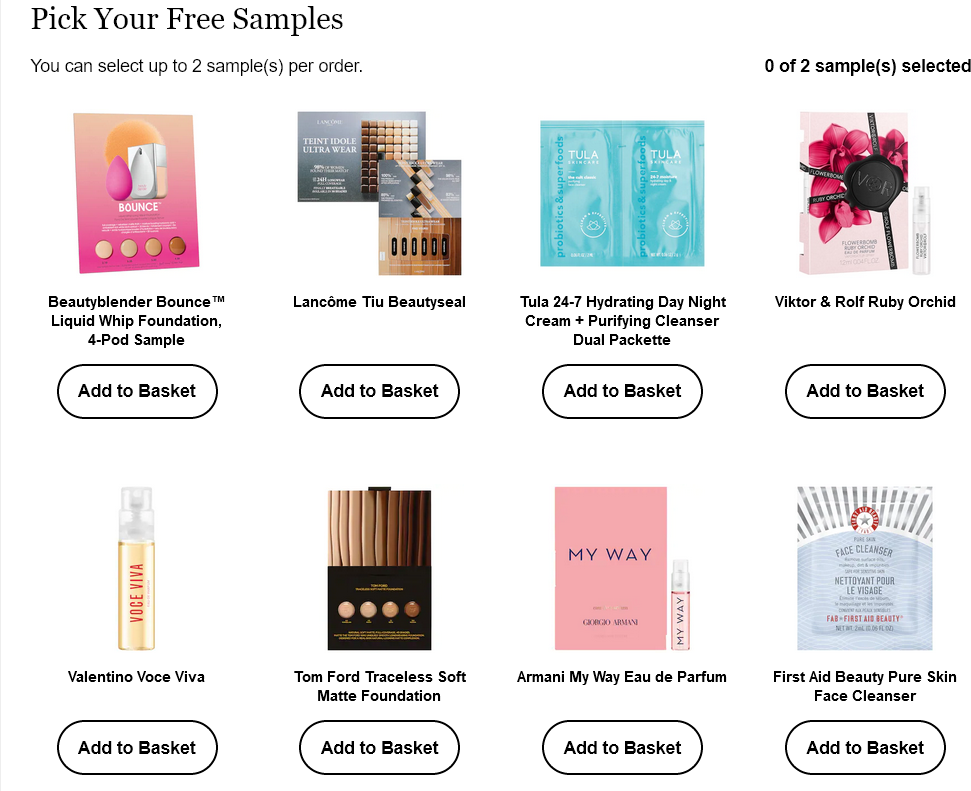 Sephora aren't the only brand which offers these samples with orders either, a few others which do are:
Follow Beauty Brands On Facebook
It may sound simple, but just by following makeup and beauty brands FB pages, you can sometimes catch them posting limited time free samples. The sign up forms are usually on Facebook and you request your sample from their page. This usually works better for smaller brands as they post free makeup samples more often, and there is also less competition before the samples are all snagged up!
These are some of the best ways you can get free makeup samples in the mail. As well as the options listed above, I'd recommend following freebie and free sample posters on social media. This will keep you up to date with all the latest samples as soon as they go live! You can follow Freebie Hunter on Facebook, Twitter and Instagram.