Use our curated list of grocery coupons to help save money on your next shop!
Continue reading →
Beauty Coupons | Grocery Coupons | Household Coupons | Baby Product Coupons
Continue reading →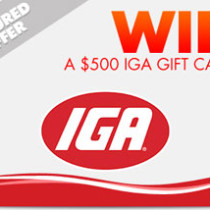 Hey hunters! Here's a brand new sweepstake giveaway for our Australian visitors being done by AussieHomeware. The giveaway is for a number of different shopping vouchers for AU stores (including Woolworths, Coles & IGA), only 1 voucher is available if...
Continue reading →