You can now enter into our giveaway for your chance to get your hands on a $100 Amazon gift card! This gift card can be redeemed online at the Amazon US store only, therefore this offer is only available to people in the United States. Please do not try to spend the gift card credit on international Amazon stores as it will not work (and may deactivate the credit!)
You can enter into this giveaway by clicking here!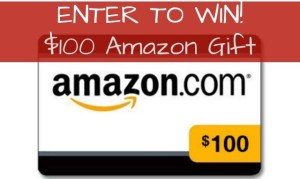 The gift card is being offered by American Prize Center, which have done quite a few giveaways and freebies before. The company is located in the US and usually all of their freebies are restricted to US-only citizens. Don't be upset if you're outside the US though, we have plenty of other freebies for you here! 
I don't think there's anyone out there who can say they dislike gift cards, they are the best! Compared to other freebies and samples, we have a lot more choice and selections with gift cards, it's basically a free shop! I remember when I won a Walmart gift card a while back and it expired because I didn't use it in time, never again will I make the same mistake! If you grab yourself one of these gift cards, I urge you to spend it relatively quick (1-2 weeks). This lets you make sure that you have used all of the credit on the card, and also that it won't expire on you like mine did!
Good luck everyone! 😊