Update: These samples are currently all out of stock, sorry if you missed them! If you're interested in sampling a lot of perfumes & fragrances we definitely recommend checking out Scentbird. Feel free to click here to read our review and get your own 25% off coupon!
Escada are giving out free samples of their Born In Paradise perfume, and a few of their other products too! The Born In Paradise one has a really nice smell, and the bottles are a decent size too!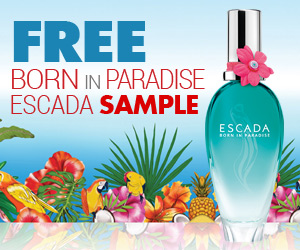 Here's how Escada describes the smell:
This scent combines lush green apple and watermelon with sweet, punchy guava, pineapple and coconut milk for an intoxicating cocktail of exotic scents.
These free samples are available for anyone in the U.S, U.K, Canada or Australia! There's actually a few other countries you can get them in, but you will have to check as there is too many for me to list here! On the sample form, simply put your country in and it will tell you if you can get them or not.
Enjoy guys! You can request your free Escada sample by clicking here. (You'll need to click the small button on the bottom-right to get to the sample form!)