Here's an awesome new sample from S&S for all our U.S, U.K and Australian visitors! These include the "His and Her" razor packs, Venus Embrace and Fusion Power.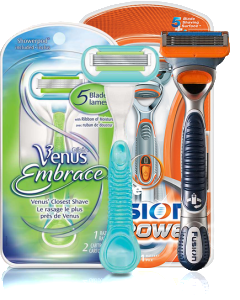 These are available for anyone to grab, all you have to do is sign up with Samples & Savings by doing their registration survey, it took me about 5 minutes. Once you've done that you can request your samples to be sent out, the estimated shipping time is 4-6 weeks via USPS.
As quite a big fan of Gillette I can say I really enjoyed these samples, I don't have to shave everyday like some people so I am fortunate that they lasted quite a while! These are also a nice little gift for the partner, as it comes with the Fusion Power razor, which I'm sure is definitely a man's razor (it looks huge!).
You can sign up for your Gillette samples by clicking here. These samples are available while supplies last and may be replaced by another sample once the campaign ends.