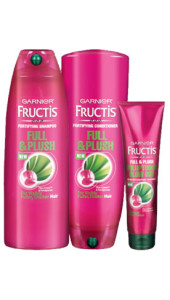 Hey guys! Here's another awesome sample being given out by L'oreal Garnier for their Fructis Full & Plush haircare products. This one's currently only for people within the US,  I'm really sorry if that puts you out on this one!
I haven't received mine yet, however from what I understand it contains samples of both the shampoo and conditioner! I've really enjoyed my L'Oreal samples in the past, so I'm pretty excited to try these out 🙂
You can grab your own free sample from L'Oreals page by clicking here or on the image to the right!