L'oreal are back with some more of their awesome haircare samples! They now have their new Extraordinary Oil range available to sample, as well as 5 other products for various different hair types. These are currently only available for U.S shipping.
The following products are available to sample, however these may change depending on current stocks!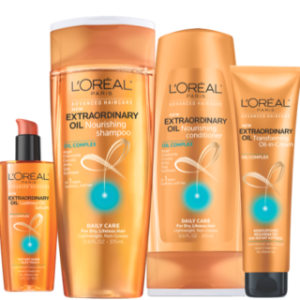 Extraordinary Oil (for dry, lifeless hair types)
Extraordinary Oil Curls (for dry, lifeless curly hair types)
Total Repair 5 (for dry hair types)
Triple Resists (for delicate and fragile hair types)
Color Vibrancy (for color treated hair)
Power Moisture (for normal or slightly dry hair types)
Smooth Intense (for frizzy hair types)
Volume Filler (for fine or thin hair)
To get your free sample, just head on over to the L'oreal Paris sample page by clicking here. Simply select your hair style from the box in the top-right to choose which sample you want to try out. Enjoy!