Here's a new giveaway/sweepstake from SweepsCity for a $50 Wendys gift card. This giveaway is only available to residents of the U.S, and the gift card is only redeemable in stores throughout the U.S.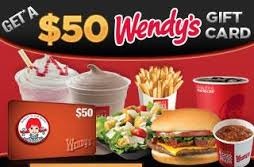 SweepsCity have done a few other awesome giveaways in the past, I have entered a number of their sweepstake competitions before and got lucky on a couple of occasions so thought I'd share this one!
To sign up for this giveaway giveaway just click here! All you are required to do is fill out your entry details, all winners will be contacted by email!