Here's a new sample available from Cottonelle, try out their brand new CleanRipple® flushable toilet wipes! These free samples are only currently only available to claim in the U.S. These samples are only available until stocks last, so grab yours today! You can also grab a $2 Cottonelle coupon from here!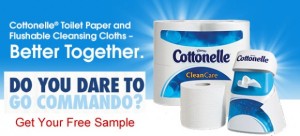 In order to claim your free sample, you may need to refer a friend on Facebook to the Cottonelle Go Commando page. This is very easy to do though, and whoever you share it with also gets a free sample if they want one!
Enjoy guys! You can claim your free sample by clicking here.